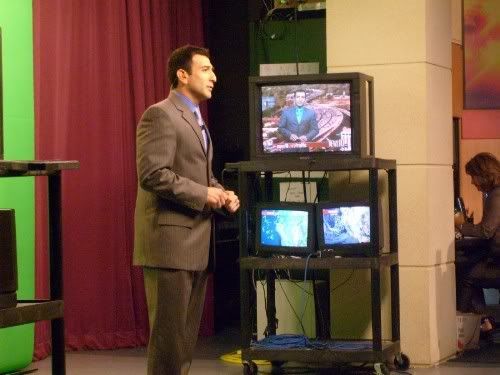 Name:
Angel Cardenas
Height:
5'9 Pant size 32-32
Hometown:
West Sacramento, Ca
Birthday:
Jan. 7th, 1977
1. What interest you to get into TV news?
I've always had an interest in TV, Radio and Movies since I was very young. I was especially interested in TV news in 1999 while in college when I understood that working in news, you really have the opportunity to inform your community of important issues that may have an impact on their daily lives.
2. What are your favorite TV Shows?

News10 Good Morning, ESPN SportsCenter, NFL Network, The George Lopez Show, Dog Whisperer, Snoop Dogg's Fatherhood.
3. What is your favorite type of music/ band or artist?
Huge Michael Jackson fan! Hip Hop ( Kanye West, Immortal Technique, Diddy), Spanish Rock (Mana), anything I can dance to.
4. What is your favorite type of food/ dessert?
I love Japanese food! I can eat it almost everyday! Seafood kicks butt too! Crab, Shrimp, Mahi Mahi, Scallops! I recently had Tapas at "Tapa the World" excellent European food. Indian food is great, Italian feasting is something I partake in…. And….you can never go wrong with Mexican food. Oh and Dessert…ICE CREAM and Flan (Mexican pudding)
5. If you could travel anywhere around the world where would you go and why?
I NEED to get my butt to Europe ASAP! I've heard nothing but great things about that place. Spain, France, Italy, etc. My fiancé was there with her family a few years ago and she loved it. Spain is very simple yet fast paced. When you need to get somewhere, you usually walk. Suits me well since I'm a busy body. The food is great and the restaurants are intimate. The coffee is superb and creamy! The people are beautiful. So I hear.
6. What is the most embarrassing thing that has happened to you during live TV?
During a traffic report I forgot the name of a road where an accident was. As I sat there, LIVE, and mumbling "Um, Uh, Um Uh" I think I followed with
" Well, I'll have to get back to you on that one" DUMB
7. What is an interesting/ unique fact about you?
I recorded a 14 track CD called "The Bounce." I wrote/produced/performed 13 tracks. I completed it right before I went into TV so I never pressed it up and distributed it. Interesting huh?
8. If you were not working in the TV business...What would you be doing today?

Either music or some type of Social Service work. I love helping troubled youth.
9. Who is your role model and why?
Grandpa is my Role Model. My Grandfather Robert Castro really taught me how to be a man. From a very young age he instilled in me lifelong lessons of responsibility, respect and work ethic. To this day, he continues to teach me the little things in life that make a huge difference.
10. What college did you graduate from/ year date?
Saint Mary's College of California (Moraga, CA) 2000
11. And lastly do you have any advice or tips for someone who wants to get into the TV Journalism field?
Do everything Patrick is doing!!!! Ask Questions, Intern, Network, build relationships and meet people in the field, GET YOUR FEET IN ANY WAY YOU CAN!!